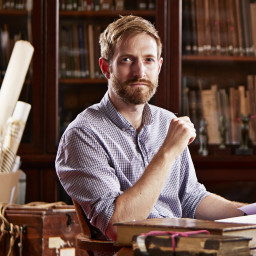 Is there anything left to find in the sands of Egypt??? YES! And this man knows how and (potentially) where!! 
Dr Chris Naunton is an Egyptologist, broadcaster and author. In addition to being the former director of the Egypt Exploration Society, he's appeared on the BBC and Channel Five, hosting shows covering Flinders Petrie (the founding father of scientific Egyptology) and Tutankhamun, among numerous other subject relating to ancient Egypt.
He's currently the Director of the Robert Anderson Research Charitable Trust (RARCT), a London-based charity that provides support to visiting academics, and President of the International Association of Egyptologists ….and on top of all of that-  he's written a fascinating, and I mean that sincerely, fantastically interesting book Searching for the Lost Tombs of Egypt! Which takes us on an historical and modern tour of the potential sites of the final resting places of some of the most famous ancient Pharaohs and personalities from history. It really is my great pleasure to introduce Dr Chris Naunton!
https://twitter.com/chrisnaunton (@chrisnaunton)
https://www.facebook.com/chrisnauntonofficial
Searching for the Lost Tombs of Egypt - https://smile.amazon.co.uk/dp/0500051992/ref=cm_sw_r_tw_dp_U_x_OonUCb8SRKJF7 via @AmazonUK
The EES (Egypt Exploration Society) https://www.ees.ac.uk/
https://en.wikipedia.org/wiki/Psusennes_I
https://en.wikipedia.org/wiki/Pierre_Montet
Kingsley Amis https://www.worldofbooks.com/en-gb/books/the-egyptologists/GOR004177032?keyword=&gclid=Cj0KCQjwwODlBRDuARIsAMy_28Un15-lYA6FWCSrwNU3HfhGEUy8UixknnURrvmMU2h3BSTm71aBef4aAg7REALw_wcB
Also, I should give a big shout out and thank you to the Egypt Exploration Society for accommodating Chris and I at very short notice, and allowing us a space to record this interview – there is some background noise and the occasional phone, but overall I'm extremely happy how this turned out, so thank you guys, it is much appreciated – please check out the EES and their research and membership scheme, they have a fantastic library in central London and it's really an oasis of calm in the busy centre of town! 
As I mentioned in the podcast, I had a dozen other questions that I wanted to ask Chris, but unfortunately there simply wasn't time, however, he's promised to come back for round 2, so we'll be revisiting Chris hopefully soon after he's returned from the next round of Egyptian exploration! Speaking of, if you fancy heading to Egypt with Dr Chris, he runs annual tours, so check out is website www.chrisnaunton.com for more details, and I urge you to pick up his book Searching for the Lost Tombs of Egypt, it reads like a novel, and it really is a fun exploration of the some of the most fascinating and enduring aspects of the field.
Thanks so much for tuning in, and have a great Easter holiday everyone! – oh and before I forget, Chris and I both appear on the brand new show Egypt's Unexplained Files over on Discovery Science Channel, it debuted last Sunday and should be running for the next couple of months, so please check that out and let me know how it goes because I don't carry the channel and I never get to see these shows! Thanks all!